by JW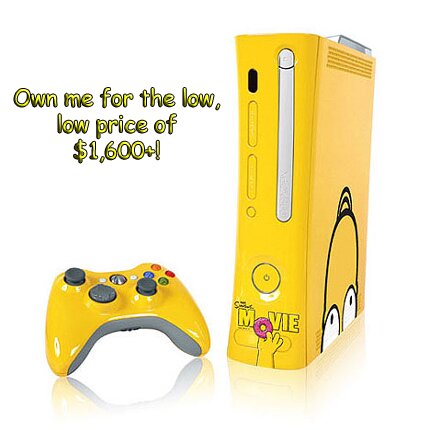 That's right, ladies and gents! One of these uber-rare Simpsons Xbox 360 consoles has found it's way on eBay! The woman, who goes by the eBay name "nyugirl84″ (ARE YOU USERNAME "NYUGIRL84″!? WHERE IS ITEM #180142374199?! WHERE IS THE XBOX?! …Transformers FTW) says that she won it on an episode of TRL, and before you bug me about it — yes, I asked her why she's decided to sell it. I'm waiting on an answer.
In the meantime, you can check out the auction at eBay, and if you're wealthy enough… happy bidding.
[eBay]
UPDATO MAGNIFICO:
This is a collector's item and I am not a collector. I am a gamer. As much as I LOVE the Simpsons and ADORE video games, its just not what I'm looking for in a console. I want something that I can drop occasionally and that I can replace if need be. Add to that the fact that its not an elite, which is what I am currently in the market for, and I think I've got a pretty sound argument for resale. So its up for auction to the highest bidder.
, , , ,